A big hello to all our lovely bride-to-be's!
What a strange few months we have had. I think it is safe to say 2020 has thrown us a curve ball but we are so excited to get back to some normality.
If you would like to make an appointment, please email us at hello@kimberleyannebridalboutique.com with your full name, telephone number and wedding date. We will get back to you as soon as possible.
We have in place new procedures which are in line with the Government Guidelines (please see below) to ensure everyone's safety whilst also trying to maintain a high standard and wonderful experience for you during your appointment.
We want you to have a wonderful time and still have that special experience in finding your dream dress, so we will be there with you every step of the way to ensure this happens for you.
Of course, it will be different, but it will still be magical.
I look forward to seeing you soon!

COVID-19
02.12.2020
As we have done previously, we will be operating by appointment only.
We will be asking all guests to sanitise their hands upon entering the boutique & temperatures will be taken with our non-contact thermometer.
We will be asking all guests to 'check-in' by scanning our QR code with your NHS COVID-19 App.
We can allow one addition guest to attend your appointment with you and the person attending with you must be from the same household or from your support bubble.
We ask that no children attend the appointments please.
All guests to the boutique must wear a face-mask on arrival and throughout the duration of the appointment. We ask that you bring your own with you or we can provide you with one at a small cost.
We ask that the guest of the bride must remain seated throughout the appointment.
Each bride will be asked to wear gloves whilst browsing the dresses. We will provide these however please feel free to use your own.
Our normal refreshments unfortunately cannot be provided during your appointment, however we will have individual bottled water available.
Each appointment will be a maximum of 1.5 hours to allow us time to steam and clean in between appointments. Please arrive on time to your appointment.
A maximum of 8 bridal dresses can be tried during your appointment.
Please bring your own shoes if you would like to wear heels during your appointment.
The boutique will be deep cleaned thoroughly after each appointment and our dresses that have been tried on will be steamed after each appointment.
If you or your guest are feeling unwell please do not attend your appointment. Please contact us and we will happily rearrange your appointment for you.
BOOK YOUR APPOINTMENT AT KIMBERLEY ANNE BRIDAL BOUTIQUE
AWARDS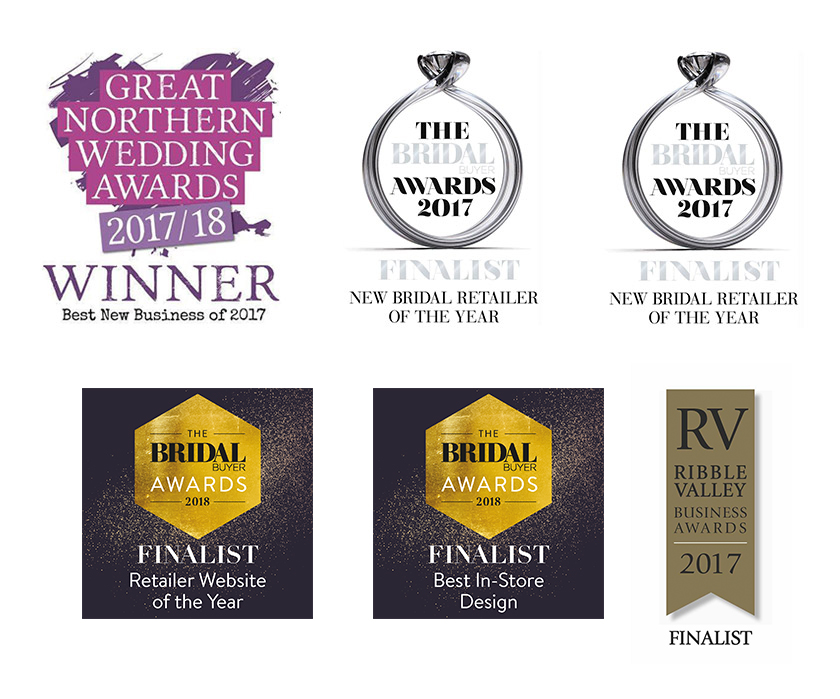 CONTACT
7 Swan Courtyard
Clitheroe
BB7 2DQ
01200 538988
AS SEEN IN