He asked… you said YES! Congratulations!
Now it's time to plan your wedding! What an exciting time! The most important thing is to enjoy it.  Don't stress too much over things as it will all come together in the end.  Planning a wedding together should be a memorable experience where you both come together and share your ideas and dreams.  Don't get me wrong, there will be stressful times, but overall let it be a time where your visions of becoming Mr and Mrs comes true.
On the 19th January 2014 my fiancé Scott proposed on holiday in the Caribbean.  It was amazing and one of the happiest moments of my life. I've been planning my own wedding now for 2 years and it's something I've thoroughly enjoyed!
Our engagement has been longer than we originally planned however I can say that time is a blessing when it comes to reducing pressure and in all honesty the last 2 years have flown by!  We get married in May this year and I still can't believe how quickly time has gone.
Whether you have a short or long engagement the planning should still be every bit of fun!  My biggest piece of advice is to find and book your suppliers as soon as you can.
The availability of popular suppliers decreasing rapidly in time so make sure you get them booked into your diary asap to avoid disappointment, and also, the other benefit is that prices can go up every year and so most suppliers will honour the current year's prices which can often save you a lot of money.
Planning the perfect wedding can take time, before you embark on wedding dress shopping there are some important things to start with that will help you on your dress journey…
Set your budget… 
It's no secret that weddings can be a big expense! But it's that one special day of your lives that you want to remember forever so setting an overall budget from the start will help you plan each element to your day.  Decide on whats important and how much you want to spend in each area.
Chose and book your venue…
What time of bride do you want to be?  What style of wedding do you want? Are you a rustic bride? Modern bride? Glamorous bride?  Once you can answer these questions should give you an idea of what type of venue you want.  Popular venues get booked up very quickly so it is important to book a date as soon as you can and be prepared to wait if your heart is set on somewhere.
Find and book suppliers…
Once you have your dream venue booked, start looking for photographers, entertainment, cake makers etc.  Good photographers will have limited availability throughout the year so make sure you prioritise this.
Consider a wedding planner… 
You may wish to hire a wedding planner to assist you create that special day.  Wedding planning & design services works to realise your vision of a perfect wedding day. From supporting the bridal gown search – to coordinating the wedding rehearsal dinner – this luxury planning service offers complete assistance wherever it is needed.  We are currently working with a fabulous wedding planner called Helen Erikisen. I met Helen at a photoshoot I was involved with for the launch of a new wedding venue called Dorfold Hall in Cheshire.  Helen is an absolutely delight and with our wedding being a little complex it is good to know she is there to help us every step of the way and on the day.  The less stress you have the better!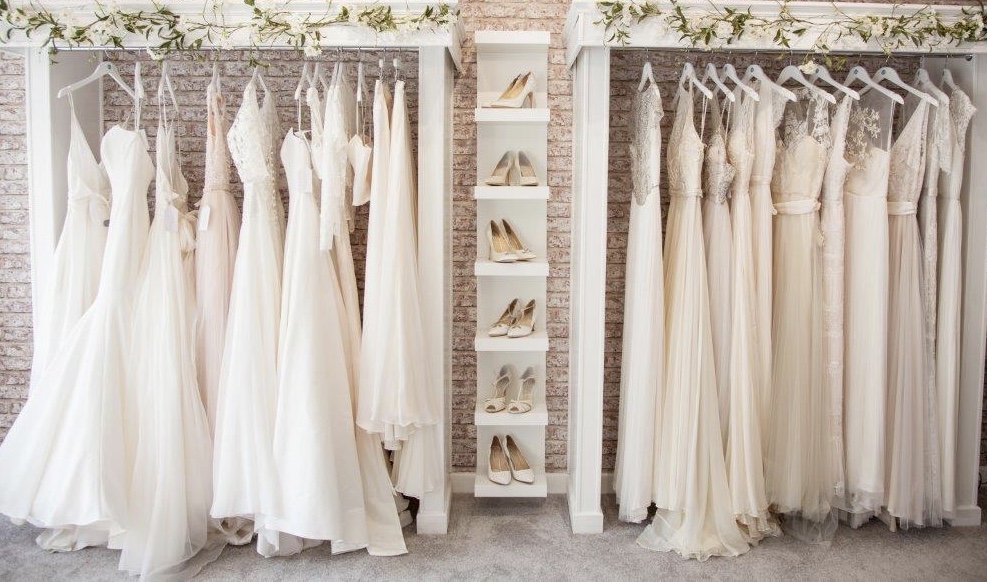 Now that these elements have been covered, you're ready to take on the world of wedding dress shopping… yippee! Now the fun really begins!
In order to prepare yourself, have a price in mind of what you want to pay.  I always ask my brides what their budget is so that I can show dresses within that price range and ensure a bride doesn't fall in love with something out of price range.  Also it is important to bear in mind costs of alterations and your bridal accessories.
Give yourself plenty of time… 
I would always advise brides to start their wedding dress search anywhere between 10-12 months before the wedding.  Before you start shopping, try and identify what style of bride you want to be and Pinterest and Brides Magazine is a great place to start gathering ideas of things you may like.  But be prepared that what you have in mind may not always be what suits you, so it is important to shop with an open mind.
Wedding dresses can take anywhere up to 6 months to arrive into the boutique and it is important to allow 2-3 months for fittings and alterations, more time especially if you are customising or changing a dress in detail.
Call in advance…
The boutique operates on an appointment only basis due to you having the boutique exclusively and for a full hour and a half so calling in advance is essential to book an appointment, especially for a Saturday or evening.  If there is a particular dress you have seen online by a certain designer it is worth checking that the boutique has this in store for you to try, if not, it is always possible to loan in gowns for your appointment.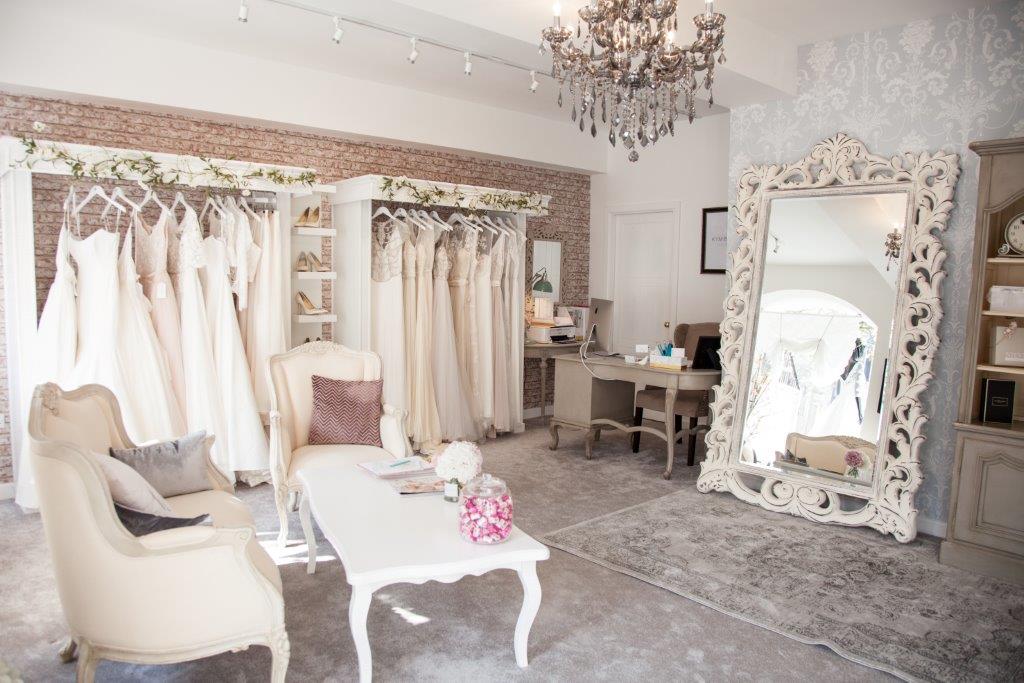 Bring those whose opinion you trust…
It is tempting to bring along your entire bridal entourage, however bringing too many people to your appointment can often cause too many opinions and thoughts to confuse you! Everyone has a different idea of what a bridal dress is like and so opinions will be different.  It is important to bring members of your bridal party whose opinion you value and trust and who will give you that honest reassurance.  At the end of the day it is your dress and it should reflect who you are.  My boutique has space for 3-4 guests.  Ideally this is around a good maximum number.
Bring along your bridal accessories…
When trying on wedding dresses it is always best to bring a strapless bra as it makes trying on different styles easier.  If you have any accessories already such as shoes, veils or headpieces then feel free to bring those along.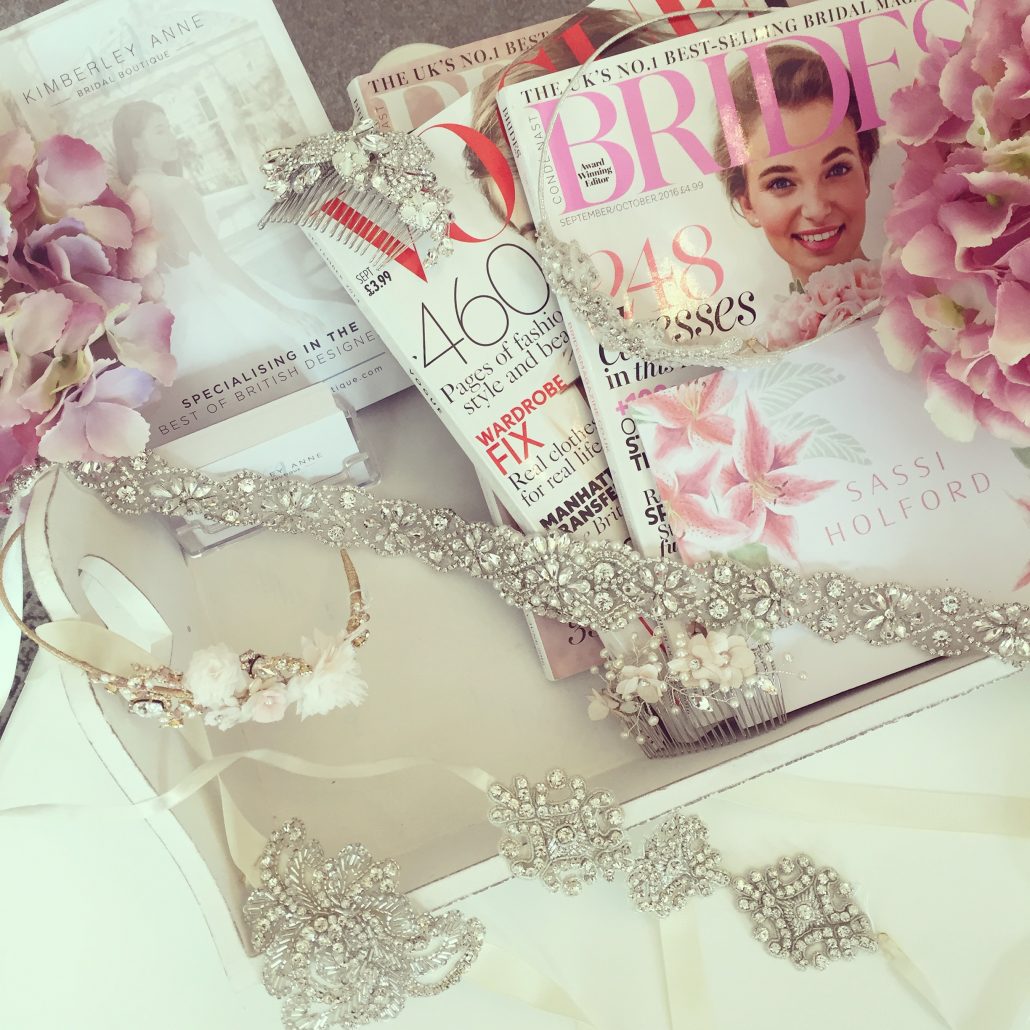 Styling the bride…
I love to experiment with bridal accessories during an appointment so that the bride can see how a dress can look with different features such as a veil, belt, topper etc.  The way I like to advise a bride is to find the dress they love, then once it arrives into store we can book a styling appointment to see what accessories look best with the dress.
Trust your instincts…
If you have to be reassured that the dress looks great on you, it's probably not "the one." If you can't see yourself walking down the aisle in it, move on. When you find the right dress, you'll know—you won't want to put on anything else!
Most importantly…
Have fun! Searching for your wedding dress should be a happy and memorable time.  At times you could probably feel overwhelmed and frustrated, so it is important to keep an open mind and sometimes take a breather if you have exhausted a few dresses.  You'll know that moment when you try on a dress and everything just feels so different and it feels 'right'.
I wanted my boutique to feel intimate and relaxing.  Its a place where you can come and feel most comfortable.  I'm here to help you and your bridal party enjoy every moment and suggest ideas in the hope of making your wedding dress dreams come true.  I believe wedding dress shopping is not just a typical 'shopping trip' it's all about the experience.  Whilst I was shopping for my own, the experiences I had were a big part of finding the dress. It's part of your bridal journey you'll want to remember forever.
I look forward to meeting you soon to help you find 'the one'.